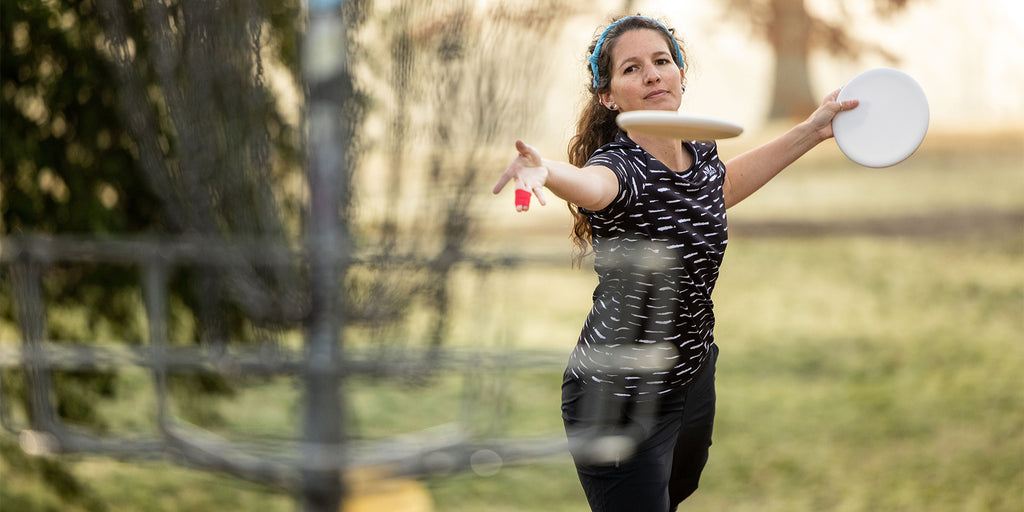 By Madison Walker
I jumped into disc golf with both feet. Honestly, looking back, it feels like a head-first dive. After a lifetime of overlooking the existence of disc golf, I found myself in the right place at the right time surrounded by some very special people. Not only did they open my eyes to the delightful and somewhat secret niche of disc golf, but they also pushed me into that river with both hands.
Since submerging I have been 150% hooked. Here, however, is where my journey looks different from most people's disc golf beginnings. Since day one, I have had someone to guide me every step of the way, a disc golf family that supplied discs, helped with throwing form, and gave guidance through the [very] mental aspects of solo sport competition. I appreciate that counsel so much, and after all the help I received while building my foundation, I am pulled to pay it forward in any way I can. 
My favorite method of giving back over the past six years has been disc golf clinics. I love blowing a new golfer's mind by parking a forehand roller from deep in the woods, and then showing them how to practice so they can master that shot, too. I get giddy teaching a woman a new grip and watching her explode with excitement when it instantly adds 50ft of distance to her drive. I jump at the opportunity to coach a more experienced player's thought processes on the putting green, something that can take any golfer's game to the next level. 
I am excited to finally take a more active role in helping new players start the sometimes overwhelming learning process we have in our beloved sport. I am ecstatic to join a team of people that not only noticed this crack in the disc golf world, but also chose to focus on filling the gap by pushing the boundaries of what a disc golf company normally looks like. The people behind Aria Discs come from a background in Ultimate Frisbee, but while team sports have been sidelined during the past year, they, like many other deferred athletes, crossed from disc golf hobbyists to disc golf obsessed. Now, after entering the disc golf world fairly recently, Aria has been handed the gift of fresh perspective, and as we know, interpretation breeds innovation. 
When Aria invited me on their journey, they were already brimming with excitement to do something different and create a model that would benefit all levels of disc golfers. They wanted to give new players a simple yet sturdy foundation, help them foster growth with the proper tools and information, and enable them to evolve into well-rounded disc golfers, maybe even inspiring evolution into competition-ready athletes. Because of the focus on progress of a player from start to 'finish' (We're never done learning!), Aria's model will also keep its appeal with seasoned disc golfers further along in their process . A disc line-up set to build a sturdy foundation allows all players, from the new guy at league to the well-versed touring professional, to be able to draw from the Aria toolkit. Clear, concise instructions on disc types and flights and informational videos will shape a space where all disc golfers can come to polish their game.
With a framework that applies to all skill levels and types of players, there is so much room for relatability among the disc golf community. And imagine, if we can all relate to each other just a little more every day, wouldn't the world be a much brighter place? We hope you'll stay tuned for the very shiny future we have in mind here at Aria Discs.