Meet Patrice, The MVP of Disc Production Here at ARIA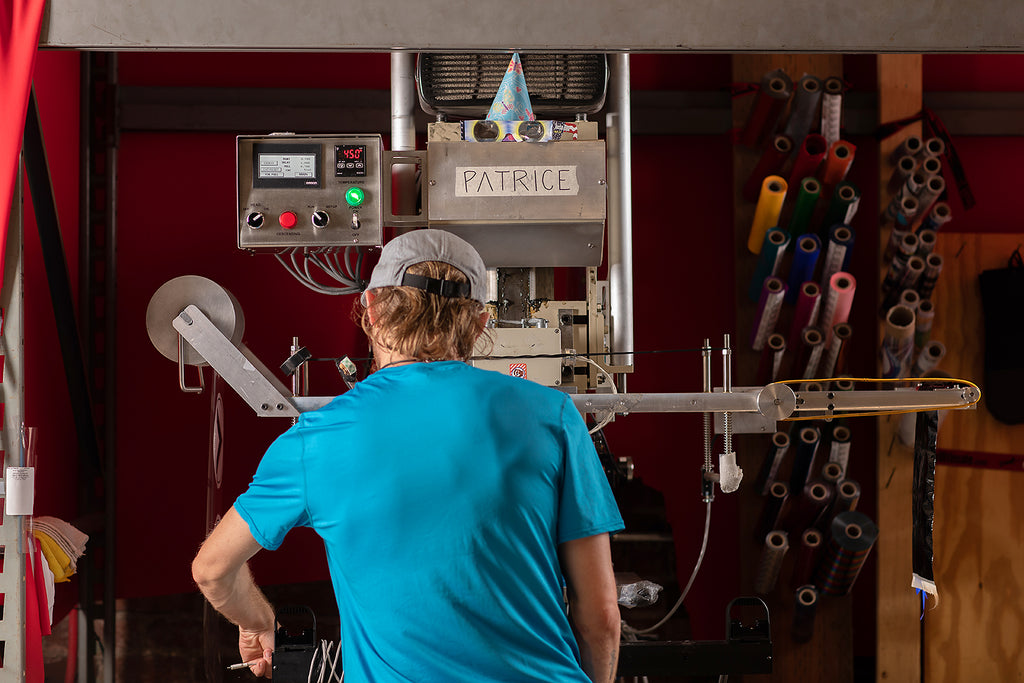 Meet Patrice. She is rather shy on the surface, but once you get to know her, she is endless amounts of fun. Even when she swears she is not.  
Patrice is the pneumatic machine that we use to print discs here in the shop — both hot-stamp and full color. She is powered by a gigantic air compressor that sits alongside her, named Wolfgang. He is loud and obnoxious sometimes, but he keeps her company and they seem to get along just fine.  
Patrice. Is. Dangerous. She does not know her own strength and could very easily turn your hand into a crepe if she wanted to, which is why there are two safety triggers that have to be engaged simultaneously every time she prints a disc. She runs at 40psi for hot stamp discs and 80psi for full color, which does not seem extreme, but could easily crush your hand. What she does not end up crushing, she will burn. In addition to her applying pressure, she is also producing heat. She runs at 280 degrees for hot-stamp discs and 450 for full color.  
On an average day, where she is in a good mood and has the energy, Patrice can produce roughly 120 discs in an hour. This is after the one to two hours that it takes to set her up with the current project.  
Did you know that...
Now that you've met Patrice and learned all about her many special skills and talents, you should probably see for yourself what she can really do. 
Curious about pricing? Head to our

pricing guide

. 

Want to learn more about how to get started on a custom disc order? Check out our

FAQ

. 

Have you been hoarding four-leaf clovers and are feeling especially lucky? Then head to our

Instagram page

where we're currently holding a

Disc Giveaway

! Yep, that's right. Ten lucky folks will each win one free ARIA disc, featuring an all-new exclusive design. These bad boys aren't even available for sale yet, so the only way to get one is to win. Head to our

Instagram post to enter

!
Here's Patrice hard at work making these special news discs for our Instagram Giveaway: