The Ultimate Broadcast: What ESPN refers to as "Frisbee" (The US Open) takes TV by Storm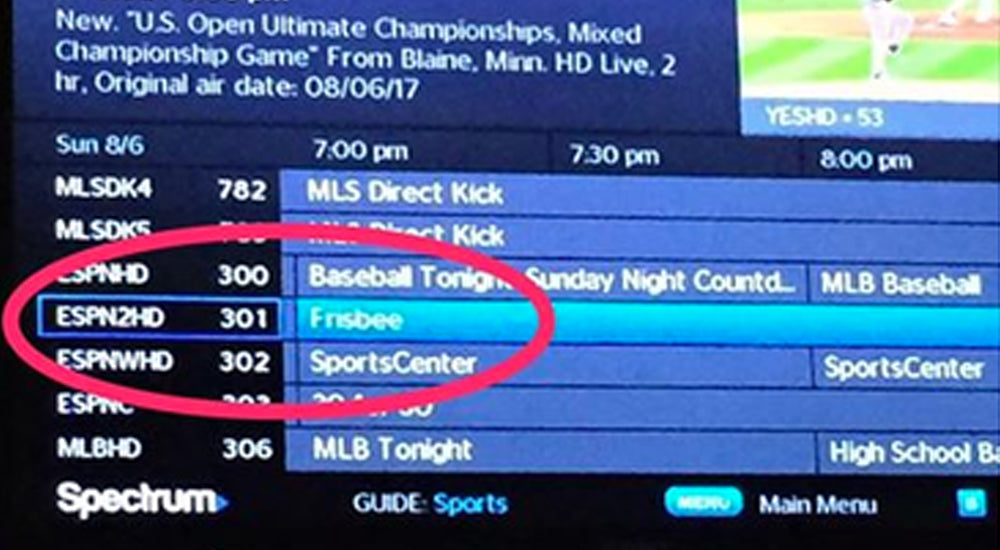 Ever turn on your TV and see something totally unexpected... but awesome?
ESPN watchers know the feeling. With the unprecedented broadcast of over 40 ultimate games from the US Open this past weekend culminating in an incredible final on ESPN2 of the mixed division featuring Seattle Mixtape and Minneapolis Drag'n Thrust, ultimate players and non-ultimate-players alike got the chance to see our favorite sport from the comfort of their couch (or possibly bar).  And not only is it great to see ultimate displayed well to the masses, but more subtly, men and women playing on the same field together in an extremely high level self officiated game.  Goooooo sports! 
https://twitter.com/bird_fruit/status/894353993110966272
Ultimate players and aficionados were predictably thrilled, but the outpouring of interest and amazement from the greater community was one of the highlights and great successes of the weekend (great ultimate aside). 
The internet had plenty to say. For your viewing pleasure, until you have the chance to watch more ultimate on TV, we've collected our favorite reactions for you here.
1. Making the "frisbee" search that much more fulfilling.
https://twitter.com/Skyd_LiamRosen/status/894361807581827072
2. It's only a short step from tweeting about your first ultimate viewing experience to getting recruited to play on a team. 
https://twitter.com/GDixon410/status/894342585493450753
3. Ultimate and carbs do seem to go together pretty well, even if you're new to the sport...
https://twitter.com/JamieABryson/status/894340438609494018
4. ...as referenced on several occasions. 
https://twitter.com/RickLiebling/status/894341793931833344
4. We've got your answer, Tyler: it's because it's awesome.  
https://twitter.com/TDMEL52/status/894347597036564480
 5. There's really nothing like seeing your sport on the screen.
https://www.facebook.com/photo.php?fbid=1390819804347035&set=gm.1058436417592937&type=3&theater
6. And finally seeing the public think it's as cool as you know it is. 
https://www.facebook.com/kris.oegerle/posts/10213872084342409 
 7. It's about time. 
https://twitter.com/e_whelch/status/894348823316893697
So thanks, ESPN and USA Ultimate, for showing ultimate some love. For all the newcomers out there: there's more where this came from. See you all out on the field!
- the ARIA team
Want to give ultimate a go? Head over to our online shop and see for yourself what the hype is about!