Wisdom From the Future of Ultimate - ARIA Game of the Year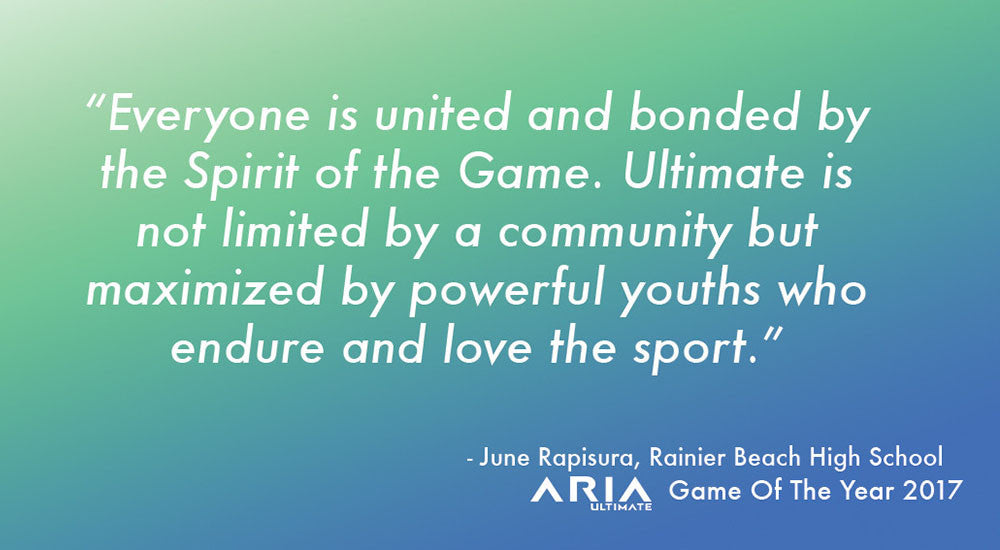 We're really excited to get to watch ultimate grow from the bottom up, with youth players and leagues around the globe. Cultivate, teach, listen and help them grow…they are the future of our sport. So we sat down with the four Seattle youth players who were invited to take part in the ARIA Game of the Year and asked them a few questions before the game -
Zahlen Titcomb: Why do you love ultimate? 
Ally Constantino: I love ultimate frisbee because it is a unique sport that requires a lot of skill...in terms of athleticism and thought. Since it is so small, a lot of people do not understand that skill, but I know how hard I have to work to get to my best. Also, the sport draws such amazing people. Every game I play I make a new friend on the sideline or even on the field. The sport gives me something to look forward to, and to keep working for. 
June Rapisura: I love Ultimate because it saved me from doing bad things that occurred in my community. I love Ultimate because it's a unique sport and the "Spirit of the Game" embodied me...and because it creates community and a sense of family.
Z: What motivates you to get better at the game? 
Ally Constantino: One super cool thing about [ultimate] frisbee is that there are always new rules you learn. I've been playing since I was in fifth grade and every year I learn something new. With that, the thing that motivates me most is playing with older people and people that play a level above me. I see them play and I learn new things and I know those things will help my game, and so I take them and I practice them.
Z: What do you think is great about spreading the sport to other people locally, and around the world?
Kaia Roast: Spreading the sport...it's like spreading the love! Ultimate is such an amazing sport because it's competitive while also being focused on spirit and having fun. I don't know of any other sport that is quite like that. So, by spreading ultimate, we are spreading the love, the fun AND the fire. 
Z: What's one piece of advice you would give to other young ultimate players out there? 
June Rapisura: One piece of combined advice for young Ultimate players out there is finding the love for the game. Once you fall in love, you will love the process of working hard everyday because it's fun. When is fun and you love it, you establish this fun and hard work mentality with the hunger of dominating and getting better.  
Amanze Oleru: Take advantage of any opportunity to get better. Try out for things, go to pick up, play mini, anything really. Stay focused on the goal and realize it is achievable. 
-ARIA Ultimate, April 2017