ARIA Presents... Around the World in 80 Plays!
Apply to get a free ARIA disc
and be entered to win
100 free custom discs
for your team!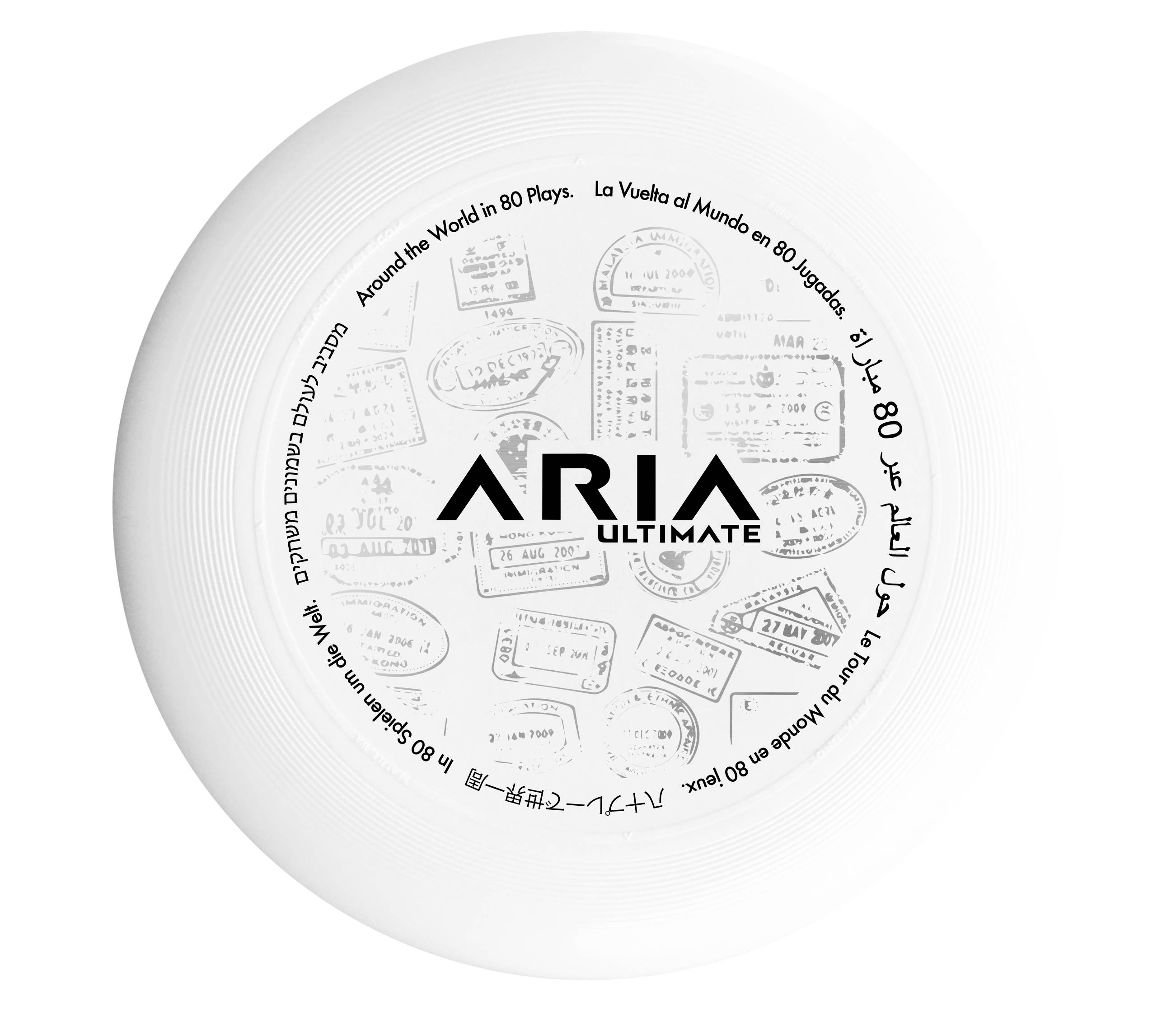 What is Around the World in 80 Plays?
As active members in the ultimate community, and leaders in the world of disc sports, our goal is to work on the expansion of ultimate by...
- connecting with a global audience
- spreading the love for ultimate
- providing an opportunity for philanthropic participation
Around the World in 80 Plays is designed to do just that. With the help of ultimate players we are looking to send an ARIA disc to 80 different places around the globe, expanding the reach of our inclusive community and further educating people about the values of the sport beyond the field.

Apply to be part of the movement
Fill out the questionnaire below and give us the play-by-play as to what your team can bring to the pitch. After careful deliberation by our esteemed and spirited critics, the top 80 submissions will be chosen to receive a free ARIA disc to show around town AND get to donate a disc to our social partners. All submissions, regardless of if they are in the final 80 plays, will as be entered to win 100 free custom discs!!
Selected participants will be contacted, and the ARIA discs will be soon to follow. Once you receive the disc, the fun begins!
Take lots of pictures! We love seeing what you come up with and would love to showcase your talents on social media. We want to show the world how cool ultimate is from all corners of the earth.
***Seriously, we love pictures. Much pretty, very pictures!***  
Don't limit ARIA's use to just the playing field, show us what is unique about your ultimate community and your community at large.  

Have fun with it! Get creative and surprise us.
We are ready to push the boat out of the harbor, and with the help of eager and enthusiastic participants like yourself, we'll be going Around the World in 80 Plays!

Hello! It's me, the ARIA disc:
Here are official guidelines for Around the World in 80 Plays...let's go on an adventure!
1. First and foremost, have fun! This should be an exciting opportunity to do a cool thing with a disc that celebrates our global community, so don't stress, just impress.
Be creative!

Make it fun and interesting but keep it legal.

Surprise us

Show us and the world something we've never seen before, or teach us something we don't know.
2. Secondly, as you may know, the sport of ultimate is built on of the ideals of Spirit of the Game and this trip is no different. Please only send in one application per team!
3. By agreeing to participate in Around the World in 80 Plays you are agreeing to be a part of history. You will also be entitled to check philanthropist off your bucket list, because you will also get to donate a disc to your choice of one of our social orgs!
So long as the terms listed above are adhered to, we're all groovy.
Signing below (please don't draw on your screen) permits your participation in Around the World in 80 Plays and acknowledges your dream to be a future torch bearer in the Olympics. 3, 2, 1...ultimate!
I, __________, fully understand and agree to the above terms.

With the ARIA 1 for 1 donation model it's like getting a two for one. Not only do you get a top of the line disc, one of our amazing social partners receives an ARIA disc as well, giving someone across the world an opportunity to join in the fun. Each team will have the opportunity to choose one of our organizations they would like a disc sent to, but feel free to let us know if there are others in your area that you would love to see included in the future!
Here's your chance to be a part of something great. By choosing to participate in our mission you'll have the ability to make a change while also looking like a humanitarian badass.
Come on...
With your help, we can make a world of difference !