E.R.I.C. stands for Early Recognition is Critical. Through ultimate clinics and Spirit of the Game, they teach middle-school students about cancer symptoms, the importance of an active lifestyle, and speak up when something is wrong. They work together with local ultimate organizations and players from the American Ultimate Disc League.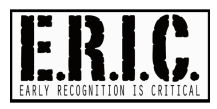 "Early Recognition is Critical, E.R.I.C., will employ team sports to teach youth about body & cancer symptom awareness and the importance of healthy living."

"Our stories and experiences may differ but our goal is the same: to inform everyone about the growing epidemic that is cancer. Our team is strong-willed and passionate about working towards a cure and an end to this deadly disease."



One of the biggest connections between cancer awareness and ultimate is self- advocacy. E.R.I.C. teaches kids they need to speak up in a game if they get fouled, just as they need to speak up if they notice cancer-related symptoms that E.R.I.C. educates them about.
Here are some of the ways E.R.I.C. works throughout communities to advocate for awareness:
Harness clinical expertise
Teach youth leadership skills
Create a network of qualified and certified E.R.I.C. coaches 
Host Ultimate Clinics
Utilize educational / promotional videos 
Donate ultimate discs
For more information head over to their website and check it out at www.earlyrecognitioniscritical.org or you could visit their Facebook page at www.facebook.com/EarlyRecognitionIsCritical